Diving with disabilities – impossible? No, not at all! We all know this feeling, diving frees the soul and frees completely from the accumulated stress. But for many people with disabilities diving is like a therapy — sometimes the first step back into life after an accident — directly from the hospital bed into the water. Especially for people with spinal paralysis diving is an ideal therapy: "and suddenly you are unleashed from the wheelchair". It's for each handicapped person a great feeling to finally be free again from all the burdens and to enjoy the weightlessness and that's why there's a big YES for handicapped diving!
Even blind people can dive!
Not only paraplegic find their place in the area of handicapped diving — who says that blind people can't go diving, or persons with cerebral palsy or multiple sclerosis? This is no problem. Often you can find the first smile for years in the face of persons with cerebral palsy, it is something special, something quiet and something weightless.
Is it irresponsibly to go diving with handicapped persons?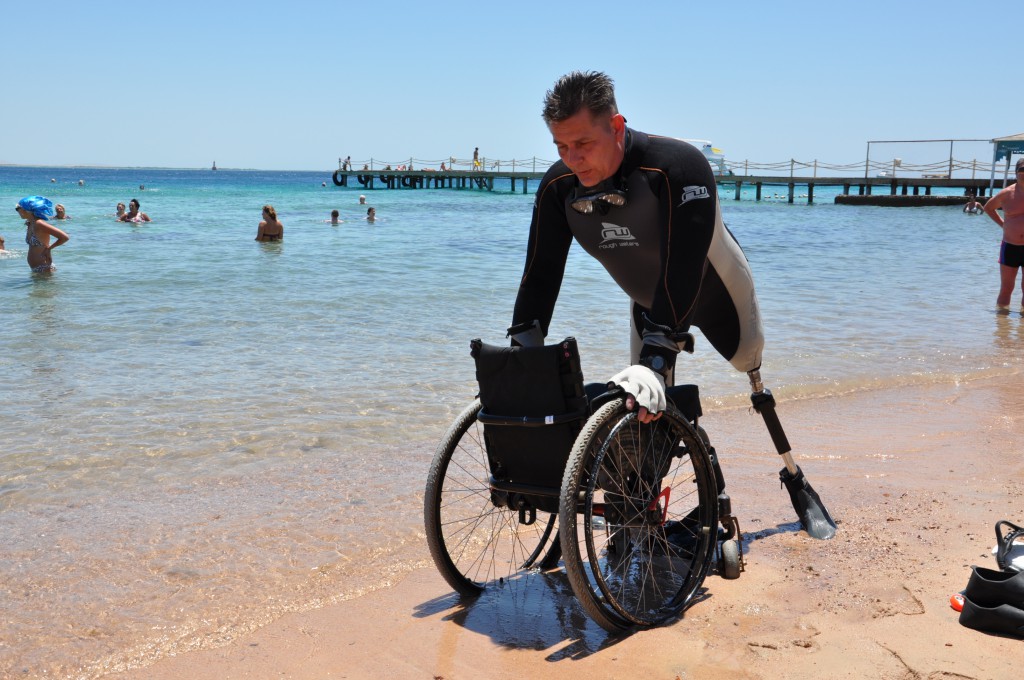 It is certainly a spectacle — some claim irresponsibly —, when uninvolved people see that people without legs, are carried to the lake but these people just have fun. In our society there are so many restrictions for those affected but while diving we are all equal! Therefore, all those affected, no matter what disability they have, are warmly welcome at the FBTD (Förderverein des Behindertentauchens in Deutschland e.V.) because we don't talk about inclusion, we do it!
Therapeutic benefits
Also the therapeutic benefits should be noticed. Especially for people with disabilities, which often, for example after an accident, use the muscle tissue again for the first time, as well coordination and breathing are required. So for example wheelchairs users experience an unexpected freedom of movement in a new dimension — because under water, there are no obstacles
Now into practice!
However, we would like to introduce the practice because of course you can talk a lot about inclusion, but in the implementation it fails mostly. Therefore, we now want to introduce you diving with a handicap, which seems impossible at first glance, but was mastered:
Vera Thamm wrote…
My name is Vera Thamm, am 24 years old and from birth Physically Handicapped (Absence of both arms from about half of the upper arms and lack of the right lower leg). Currently I absolve my master studies in the field of rehabilitation and health management, at the German Sport University Cologne.
How it all began with diving and me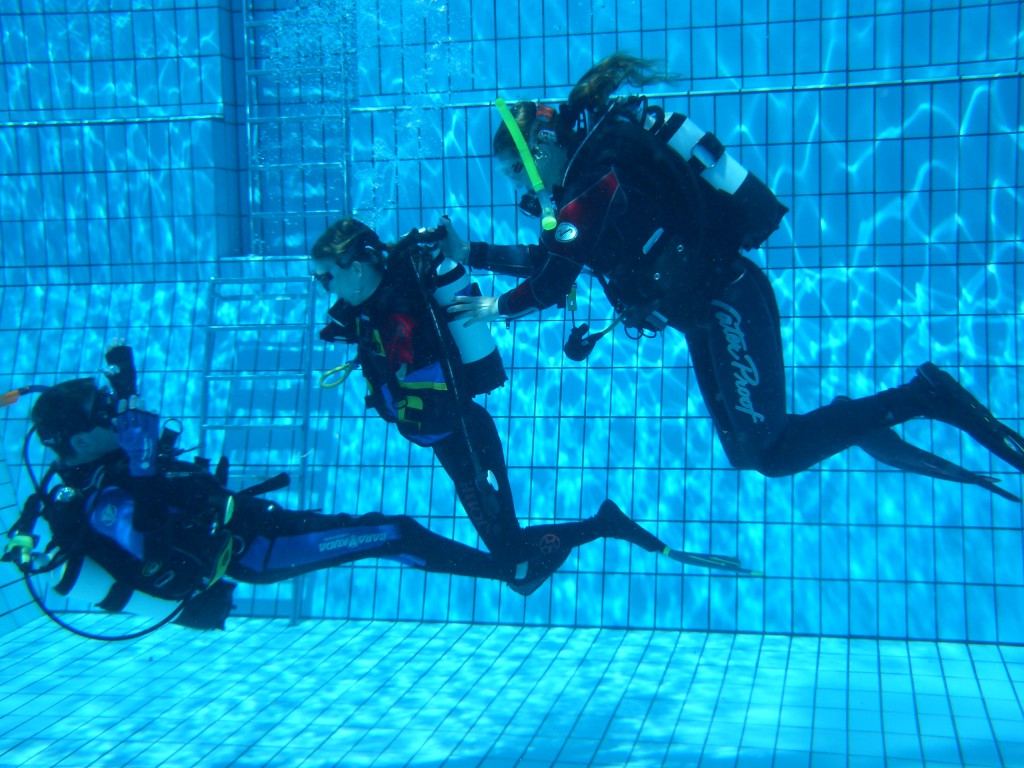 In 2007 I got, as a gift from my parents, the OWD course and I could therefore fulfill a long-held dream. Water has always been my favourite element – mainly because you can relax in the water very well and restrictions which may exist out of the water, in the water almost disappear – but the experience of the feeling of absolute weightlessness, which you experience while diving was something completely new and it was great.
A several years lasting swimming layover…
After the OWD course I stopped diving for several years, for several reasons, inter alia broke up the diving school after a while and I devoted myself, for a few years completely to the disabled sports in the area of swimming, so I didn't really had time for diving anymore.
…… but then quickly "back to the roots" of diving
2014 after I finished my time as an active swimmer because I wanted to completely concentrate on the preparation of the upcoming master studies and this was not an option for me parallel to the time-intensive swimming was now, especially on the weekends, time to again to dive.
How the FBTD (Förderverein des Behindertentauchens in Deutschland e.V.) entered my life
When I re-started diving at the beginning of 2014 I went to the FBTD. I already knew two of the FBTD founders and what shall I say – it was as if I had never been gone – I was immediately warmly resumed and I'm still very thankful therefor.
There he was the FBTD and hopefully will remain forever!!!
Diving at FBTD means – "we are not talking about inclusion-we do it." Diving at FBTD represents practiced inclusion, without that disability is moved into the foreground – I personally perceive that as very pleasant – at the FBTD people with and without restriction dive together.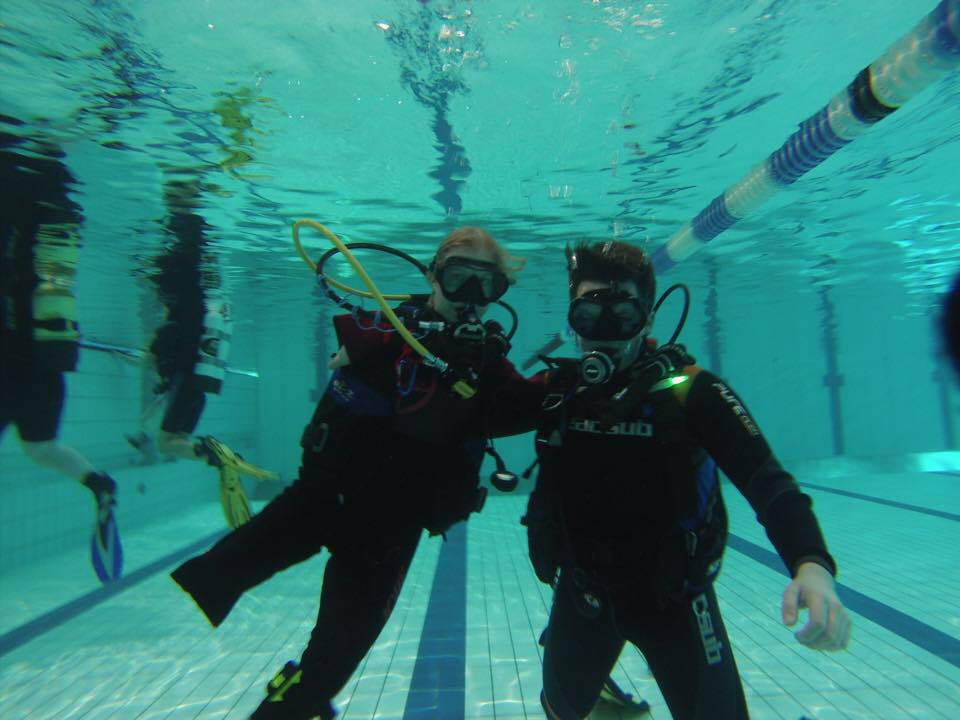 Everybody does as much as possible independently and only gets assistance if it's really necessary. This promotes independence and self-esteem. The personal strengths of each individual will be encouraged and challenged. Who for example can't carry heavy things based on his impairment can for example overtake organizational activities so everyone gets included.
Diving with a handicap – my personal experience
For me, diving is much more than just any sport. Diving gives me the opportunity to discover the underwater world together with many other dear people to gain valuable experience. Even if my disability in daily life plays no essential role for me because I don't know it differently – which certainly often is an advantage towards people who have acquired by an accident, illness or other reasons a disability and need to learn everything new and different – so I of course come across my limits also occasionally. This is for example the case while carrying the diving equipment. It's just nice to know that this is taken over by other members of the FBTD – Team because of the good team spirit. Completely without help it doesn't work but that's okay!
Diving – a chance to learn something for your own life….
A personally for me very important "lesson" that I have certainly learned through diving and partly am still learning, is to assume help… because to be honest I don't really like that …, but if there is located a dyke between the sea and me and I'm no longer wearing the prosthetic leg because I'm already wearing the diving suit, then I need someone to help me to get to water. Learning that is certainly something that will help me in life.
… and a chance to motivate others
If you dive as a person with disabilities, this is also an opportunity to motivate and encourage others too. This is something I like very much, if you have a handicap yourself, it may happen that other people with disabilities see that and think "if she can do this with their handicap, then I can maybe also" and then they try it and if they see that it works – what can I say it can't actually happen anything more wonderful.
My conclusion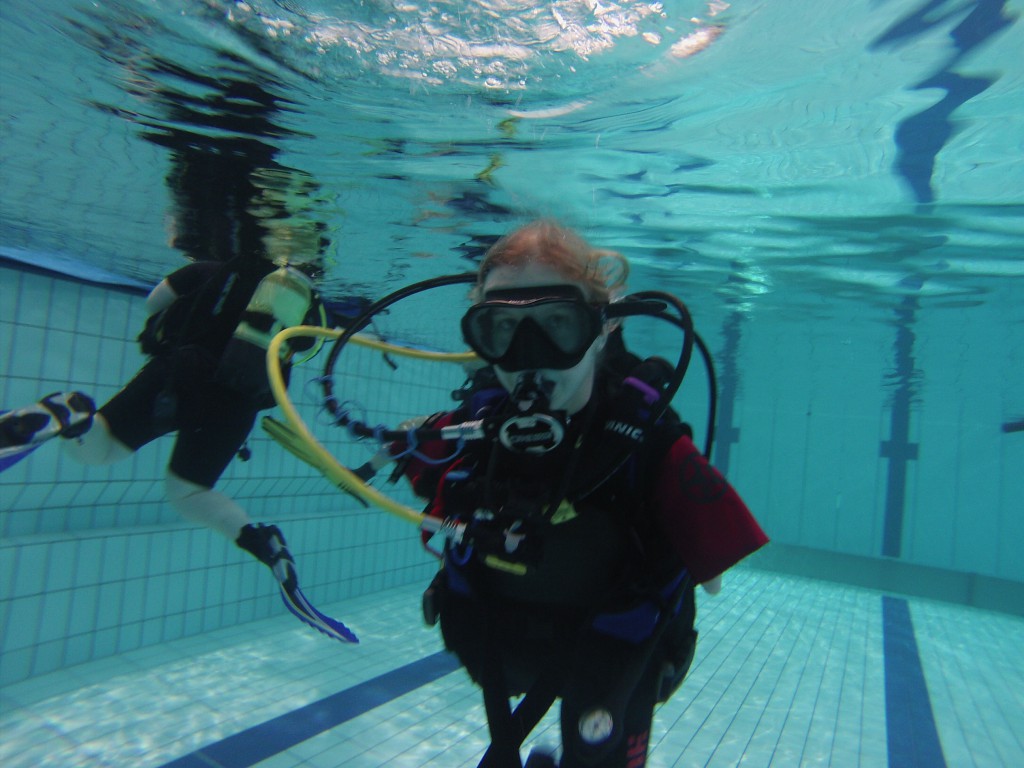 For me personally, diving is an ideal compensation to everyday life – just dive and forget everything else around you for a moment – wonderful!!!
Written by Vera Thamm, Rita von der Forst and Sam Nowakowski.